Drum Truck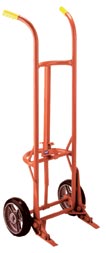 20BT & 20BTW
deluxe series
Features:
61" O.A.H. / 23.75" O.A.W. / 17.5" O.A.D.
An industry standard.
Floating axle reduces effort required to break over and balance load.
Easiest drum truck for one person to use.
Chime hook can be stored at the top of the frame for easy use.
Replaceable hard faced double beveled nose prongs.
Self-standing.
With wheels resting on floor, 18" to center of lowered chime hook.
There are two wheel choices on the deluxe series. The Moldon Rubber or the Polyolefin.
10" x 2.5"
Moldon Rubber

10" x 2.25"
Polyolefin

Part #

240003

240004

Model #

20BT

20BTW

Capacity

1,000 lbs

1,000 lbs

Weight

74 lbs

59 lbs